HPS Insight
The Future Of Food: How Will The Delivery Revolution Impact Our Health And Pocketbooks?
September 1, 2020
7 min read
The U.S. Department of Agriculture recently released new data showing the share of spending on food at restaurants and other venues outside the home is at an all-time high. After dipping slightly during the Great Recession, the share of outside-the-home food spending has climbed to 54% (Exhibit 1).
Although spending doesn't automatically equal consumption, the new data raises two interesting questions: 1) How are food delivery startups influencing spending behavior; and 2) If our diets are increasingly delivery-heavy, what could it mean for our health?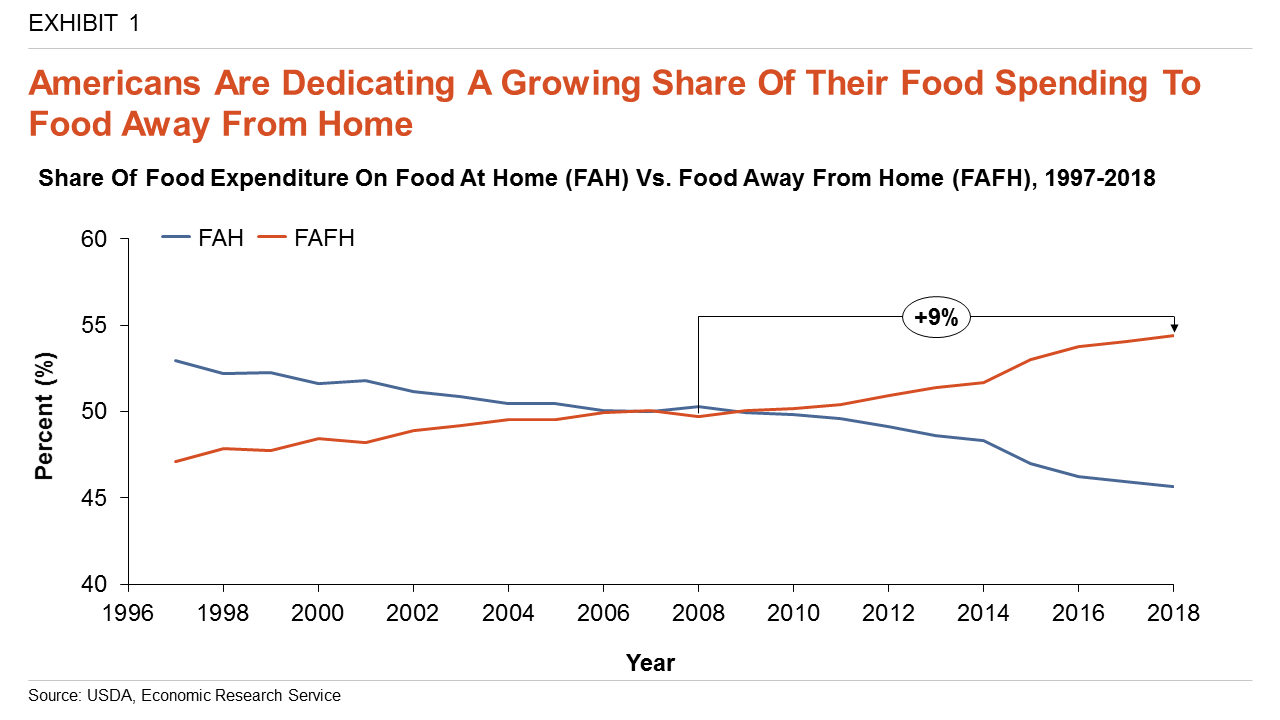 The Golden Age Of Delivery
The increased convenience and optionality of food delivery has ushered in a new era of at-home prepared food consumption. In fact, investment firm Cowen and Company predicts more than 50% of restaurant spending will be "off premise" (i.e. not in a restaurant) in 2020. Demographics likely play a role in this trend. Over the past several decades, the number of one- and two-person households in the U.S. has skyrocketed. The economic advantage of cooking at home changes when ordering takeout for one vs. four. Another aspect is generational, with Millennials being "three times more likely to 'order in' than their parents."
And, it looks like we're just at the tip of the iceberg. Investment firm UBS predicts robotics, AI, and delivery drones could all cut the cost of prepared food to the point where it's possible "by 2030 most meals now cooked at home will instead be ordered online and delivered from restaurants or central kitchens."
Here in 2019, both Uber Eats and Postmates boast coverage of 70 percent of the U.S. population and are adding smaller markets, such as Cedar Rapids, IA and Youngstown, OH.
If the current trends hold, it's likely spending on food away from home will continue its upward climb. Although this future sounds convenient and delicious, is it coming at a cost to our health?
Sacrificing Health For Convenience
Research backs up the common-sense notion that eating food cooked at home is better for you than eating out. A 2014 Johns Hopkins study found people who cook at home "eat healthier and consume fewer calories." The Food Network breaks it down for those who favor anecdotes: an at-home version of P.F. Chang's broccoli beef cuts approximately half the calories; for Panera Bread's Tomato & Mozzarella on Ciabatta sandwich, making it at home reduces the calories by 88%.
The upshot is, if we're dedicating a growing share of our food budget to food prepared outside the home, our diets are also probably including a growing share of calories, carbohydrates, sugar, and more—all things linked to obesity, heart disease, and other health issues.
Some may ask: What about healthier delivered at-home meal kit companies like Blue Apron? Well, they aren't coming to the rescue—at least not yet. Polling shows less than 20% of Americans have ever tried these kits, and those who do, don't maintain long-term subscriptions. Further, the companies themselves are struggling: Blue Apron hasn't made a profit since its IPO, and former competitor Chef'd closed up shop suddenly in 2018.
That being said, market research predicts the meal kit industry will continue growing (albeit more modestly than previously anticipated), and grocery stores are upping their game in delivery and prepared food. Albertson's acquired Blue Apron look-alike Plated in 2017, and Kroger bought meal-kit company Home Chef in 2018. This, plus a surge in curb-side pickup and grocery delivery options, could help grocery stores keep up with the competition. According to Business Insider Intelligence, although just 10% of U.S. consumers regularly buy groceries online, it is "on a rapid rise." Further, we are beginning to see takeout companies like Doordash and Postmates add supermarkets and convenience stores to their menu of options.
Conclusion
It's fair to say the delivery revolution is here to stay, and the anticipated downward pressure on costs will almost certainly see a continued consumer shift to food prepared away from home. However, questions remain about the future nutritional substance of the food to be delivered. Today's delivery norms, which conjure visions of pizza and Thai food (for me, anyway), certainly raise concerns over how our food spending is impacting our health.  But it also seems possible that grocery stores and central kitchens could lead the way toward more healthful prepared food. Time will tell.
Andrea Christianson is a managing director at Hamilton Place Strategies.