HPS Insights
State Of The Union Preview: An Analysis Of State Of The State Addresses
April 27, 2021
3 min read
The past year made clear that America's 50 states have different priorities — both from each other and from the federal government. From travel restrictions to return-to-office guidelines, the pandemic and the ensuing road to recovery have elevated the necessity for businesses and lawmakers to navigate varying state and federal guidelines.
As of last night, governors of all 50 states, with the exception of Ohio governor Mike DeWine, have conveyed their budget and legislative priorities to their constituents and legislatures through state of the state or inaugural addresses. Ahead of President Biden's first address to the joint session of Congress, we analyzed these speeches to understand conversations taking place outside of Washington — where themes converge, focuses diverge, and promises for recovery are made.
Hot issues at the national level such as immigration and tech competition received little attention in state of the state addresses. Instead, governors focused more on education and budgets, topics of more local concern. The pandemic remains top of mind, as governors try to cast an optimistic outlook of economic reopening and recovery: collectively, governors mentioned vaccines 20 times more than quarantine.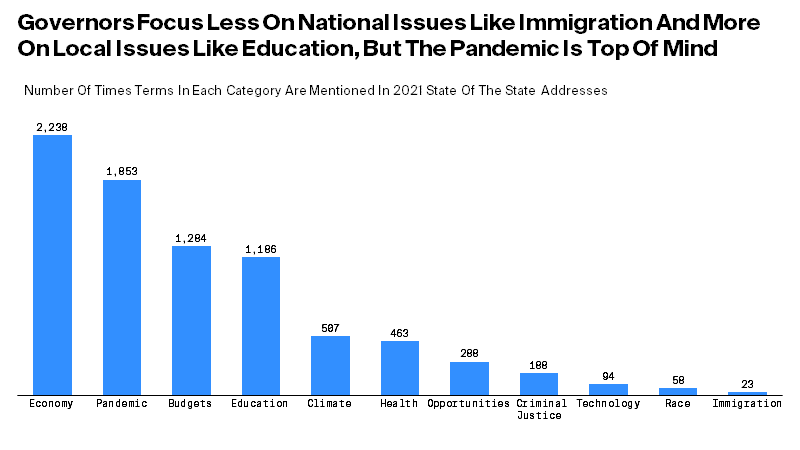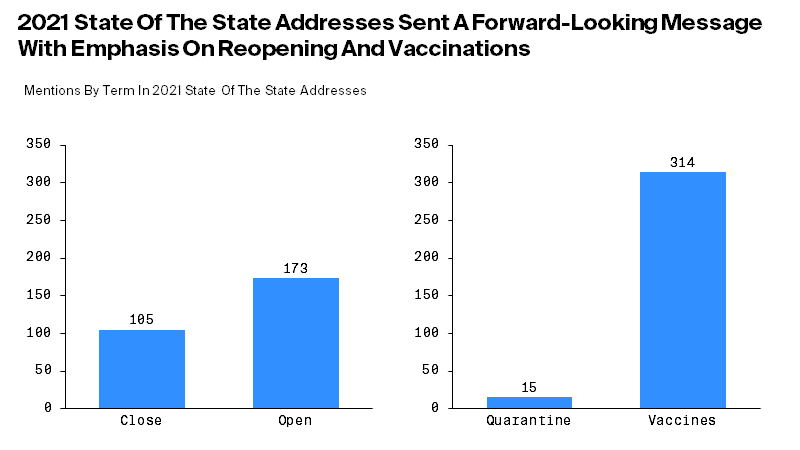 While partisan and regional differences are expected, to paint states as simply divided by red and blue or north and south would be an oversimplification. Oftentimes, priorities discussed in governors' state of the state addresses are consistent across states and years. Both in 2020 and 2021, all governors mentioned the economy and education, while the vast majority of speeches included mentions of healthcare and state budgets. Governors representing both parties also responded to social movements for racial justice: four more Democratic governors and five more Republican governors discussed race in 2021 than was the case in 2020.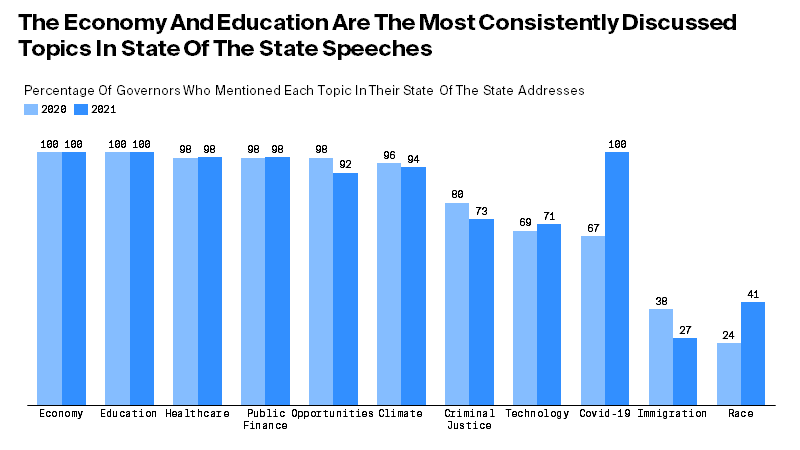 That said, differences persist. Democratic and Republican governors have different emphases. For example, while education issues like schools are mentioned at the same frequency by governors from both parties, Democratic governors spent more time talking about the climate and vaccines, while Republican governors placed more emphasis on reopening the economy and criminal justice. Meanwhile, governors of the Northeast are considerably more focused on the environment than those from the South, who mentioned criminal justice at a higher rate than their Northeast counterparts.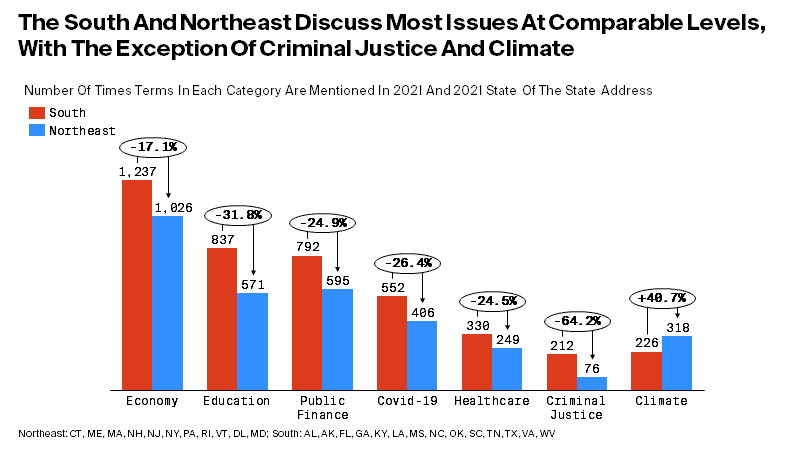 For more on how states balanced the economic and human toll of the pandemic, read HPS' analysis on state pandemic responses.