HPS Insights
Capitol Chatter: A Quarterly Analysis Of Congressional Tweets
Welcome back to Capitol Chatter: A Quarterly Analysis Of Congressional Tweets, where we help you keep track of what Congress is tweeting.
In the first quarter of 2022, Congressional Twitter accounts sent out 135,116 tweets—a 16.8% increase from the fourth quarter of 2021. The economy fell from being the most tweeted-about topic as lawmakers increased focus on foreign affairs and defense as a result of Russia's invasion of Ukraine. Not only was Ukraine the most discussed major event in Q1, it also reshaped the conversation on issues beyond foreign affairs, including energy and the environment.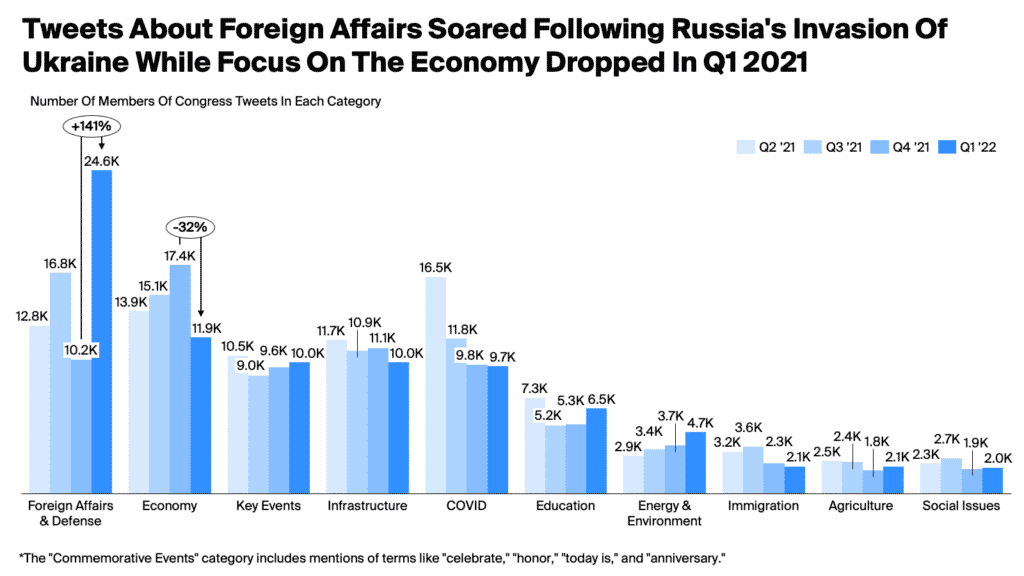 The most notable difference between Q1 2022 and the previous quarter is the nearly 150% increase in the number of times members of Congress mentioned terms related to foreign affairs and defense, driven by members calling for consequences against Russia for its invasion of Ukraine.
Meanwhile, tweets mentioning the economy decreased 32% from 2021 Q4 to 2022 Q1, returning to levels in line with Q1 2021. A drastic decrease in tweets about Build Back Better, with tweet volume falling almost 90% as the bill lost momentum in Congress, drove the overall downward trend of economy mentions.
Democrats' and Republicans' different focuses on Twitter continue to be evident in how and how much they talk about President Biden, with Republicans mentioning Biden more than 3 times as much as their Democrat counterparts. While Democrats most frequently referred to Biden as "POTUS," their Republican counterparts referred to him as "Biden," tying him to negative issues like inflation.
Despite the public's focus on growing inflation, the number of congressional Tweets about the topic rose only slightly from Q4 2021 to Q1 2022. We predict that the number of inflation-related tweets will increase in the second quarter as the midterms approach and inflation continues to threaten the U.S. economy; Republicans will likely continue connecting inflation to Democratic policies, while Democrats will need to develop their own messaging strategy to address what's expected to be a top issue for voters in November.
While President Biden's nomination of Judge Ketanji Brown Jackson to the Supreme Court and his State of the Union address were the two other major political moments in Q1 2022, the number of tweets about them peaked in the few days immediately following these events and stayed relatively low otherwise. Ukraine, on the other hand, had consistently high volumes throughout the quarter, with larger and more frequent peaks.
Even as these three major events unfolded, members of Congress still spent the majority of their Twitter posts discussing other topics more immediately relevant to their constituents, such as the economy and education. Russia's invasion of Ukraine created an exception to this rule: in the two days immediately following the invasion, overall tweet volume fell, indicating that members tweeted significantly less about other topics as they focused on the situation in Ukraine.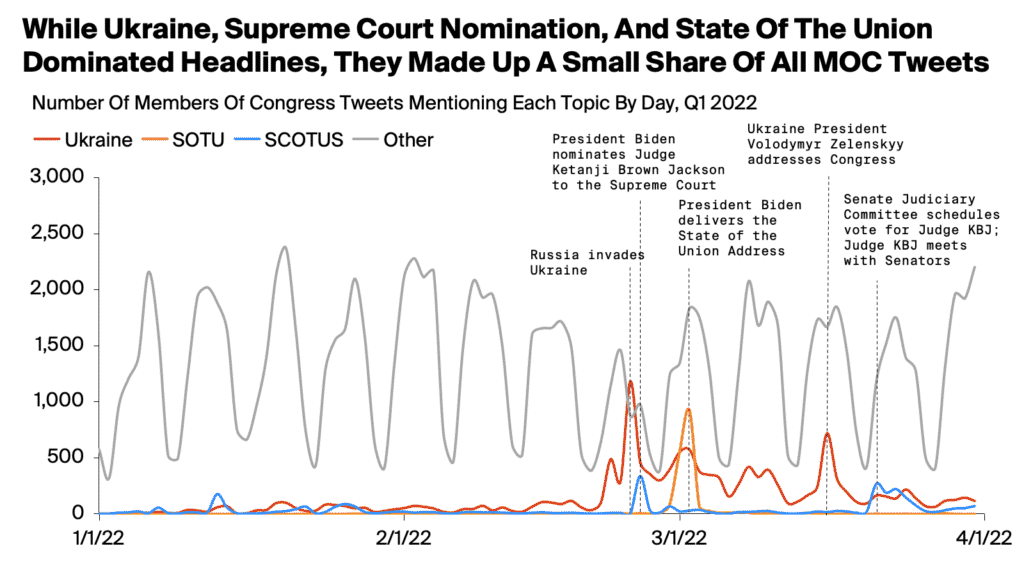 The war in Ukraine also reshaped the discussion on energy and the environment. Members of Congress began to tweet more frequently about energy and environment compared to other topics: while the total daily volume of tweets remained roughly the same, members of Congress tweeted about energy and the environment 2.5 times more every day after Russia invaded Ukraine. And as the tightening global oil supply pushed American gas prices to record highs, fossil fuels took center stage. Members of Congress mentioned "oil" 6 times more after the invasion began than before.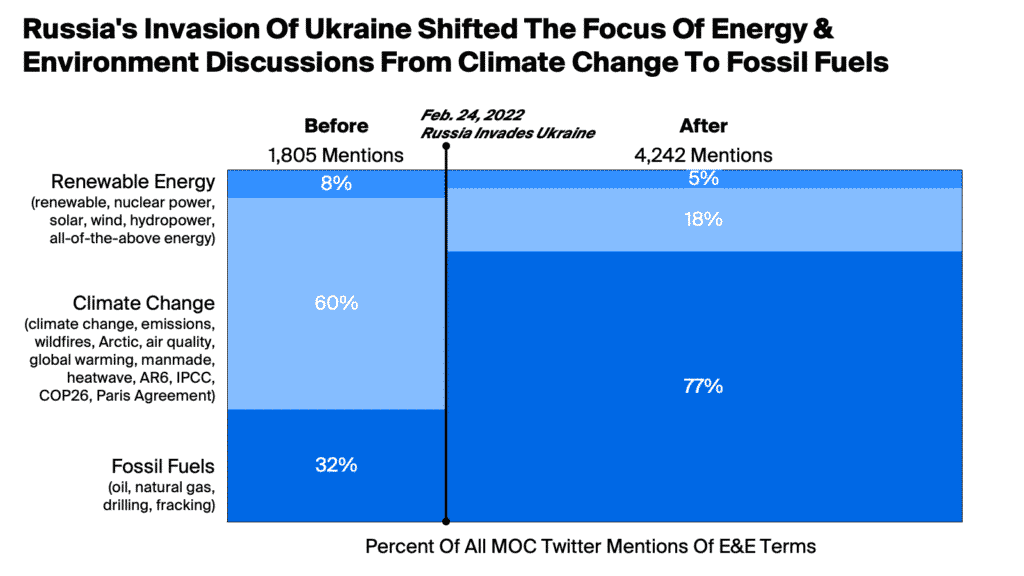 Methodology
HPS conducted text analysis on tweets and retweets from members of Congress and Congressional committee accounts that were posted between January 1, 2022 and March 31, 2022. In total, we searched for more than 150 keywords in each of the 135,116 tweets to determine which topics were discussed in each. In this analysis, independent Senators Bernie Sanders (I-Vt.) and Angus King (I-Maine), who caucus with the Democratic Party, were treated as Democrats. Charts and numbers may vary slightly quarter to quarter given methodology adjustments.