HPS Insights
Capitol Chatter: A Quarterly Analysis Of Congressional Tweets & A 2021 Retrospective
February 7, 2022
6 min read
Welcome back to Capitol Chatter: A Quarterly Analysis Of Congressional Tweets, where we help you keep track of what Congress is tweeting. This analysis covers both trends from Q4 2021 and insights from the full year.
In 2021, Congressional Twitter accounts sent out a total of 549,687 tweets. Democrats accounted for 61.2% of that total, while Republicans sent the remaining 38.8%. Tweet activity declined over the year: members of Congress sent 115,657 tweets in Q4, an 11% decline from Q3.
Topics: What Were Members Talking About?
After three quarters of growth, infrastructure emerged as the most discussed topic on congressional Twitter in Q4: members' tweets about infrastructure jumped almost 50% from Q3 to Q4 as the Infrastructure Investment and Jobs Act was signed in November. Conversely, the number of tweets mentioning foreign affairs and defense fell 55%, returning to levels in line with tweet volume prior to the U.S.' withdrawal from Afghanistan.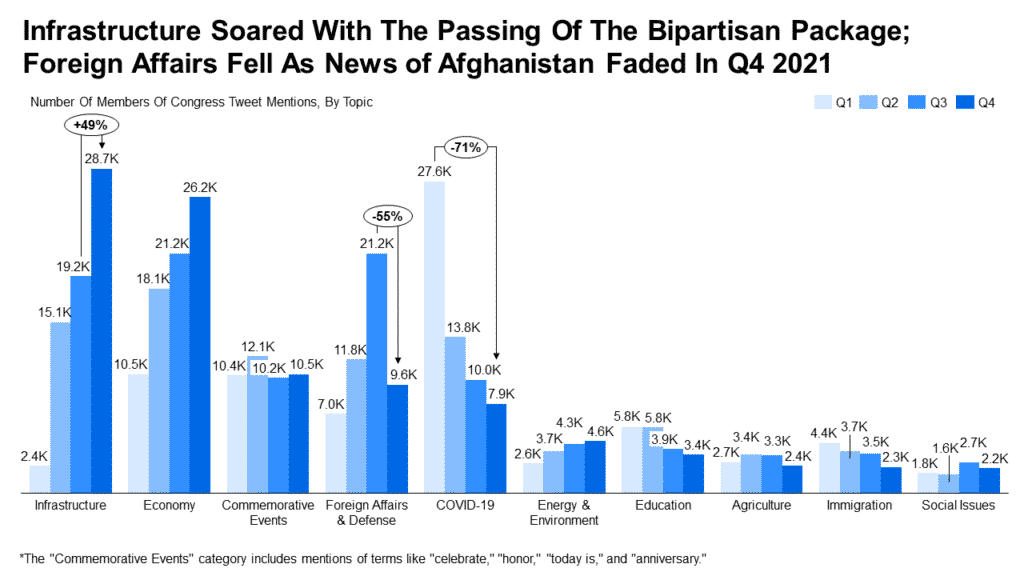 The steady growth in tweets about infrastructure and the economy was driven largely by Democrats, who used terms like "bipartisan," "infrastructure," "jobs," and the hashtag "BuildBackBetter" to push the President's agenda. Republicans were more likely to tweet about Biden directly, and focused on negative issues like inflation: Republicans mentioned "inflation" nearly nine times as often as Democrats in Q4.
Mentions of "inflation" illustrate how congressional Twitter can be a barometer of both parties' political and communications strategies. While consumer interest in inflation has been high all year, as data from Google Trends show, Republicans increased their discussion of the topic to try to tie rising prices to President Biden's agenda in May, while Democrats shifted gears in December, pointing to the need to fight inflation as a reason to pass Build Back Better.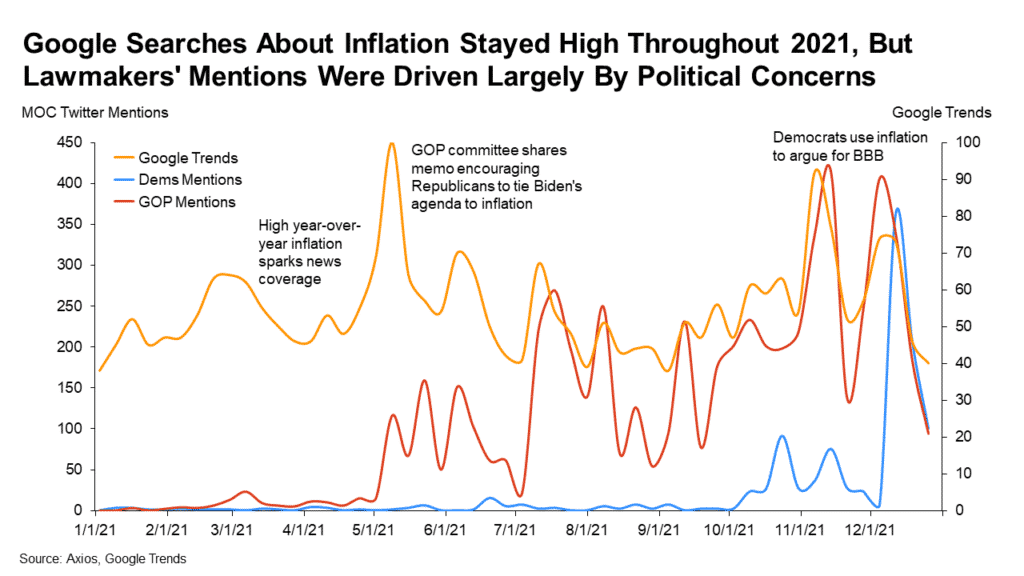 Mentions of COVID-19 vaccines showed a similarly partisan split. Democrats' tweets about COVID-19 vaccines generally tracked Google search volume: volume slowed over the year after peaking around expanded vaccine eligibility in April. Republicans mentioned vaccines far less frequently for most of the year, until President Biden announced a sweeping vaccine mandate in November. Since then, Republican mentions of vaccines have matched or even outpaced those by Democrats.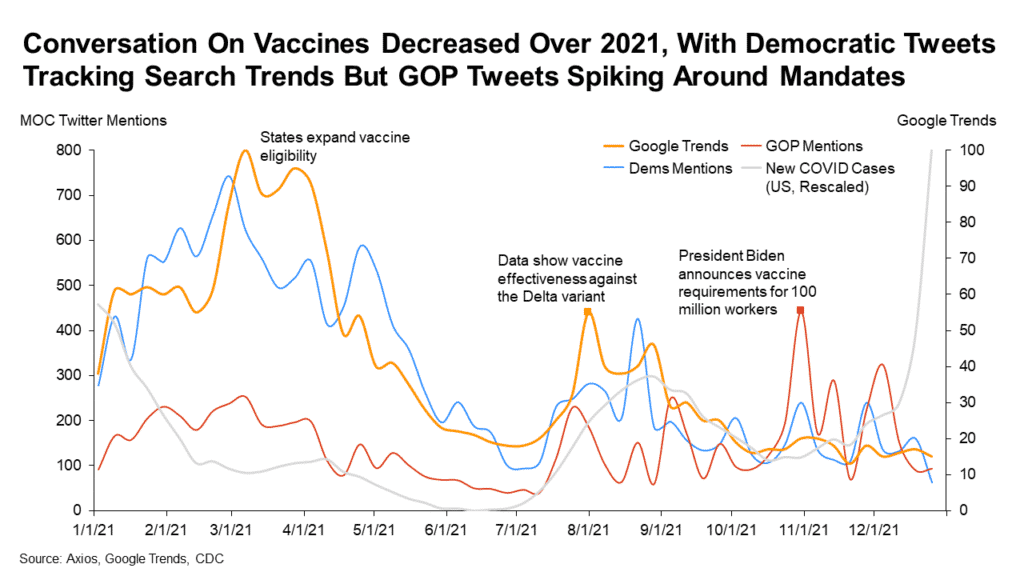 Member Leaderboards: Who Was Tweeted About—And Tweeted—Most?
President Biden and Vice President Kamala Harris were mentioned most in members' tweets: their combined weekly mentions ranged from one to 40 times more than combined mentions of Congressional leadership (Speaker Nancy Pelosi (D-Calif.), House Minority Leader Kevin McCarthy (R-Calif.), Senate Majority Leader Chuck Schumer (D-N.Y.), and Senate Minority Leader Mitch McConnell (R-Ky.)).
Speaker Pelosi consistently led the other three leaders in mentions by other lawmakers. Among lawmakers, regulators, and government officials, her handle was mentioned the fourth most on congressional Twitter in 2021, trailing only @potus, @housedemocrats, and @joebiden.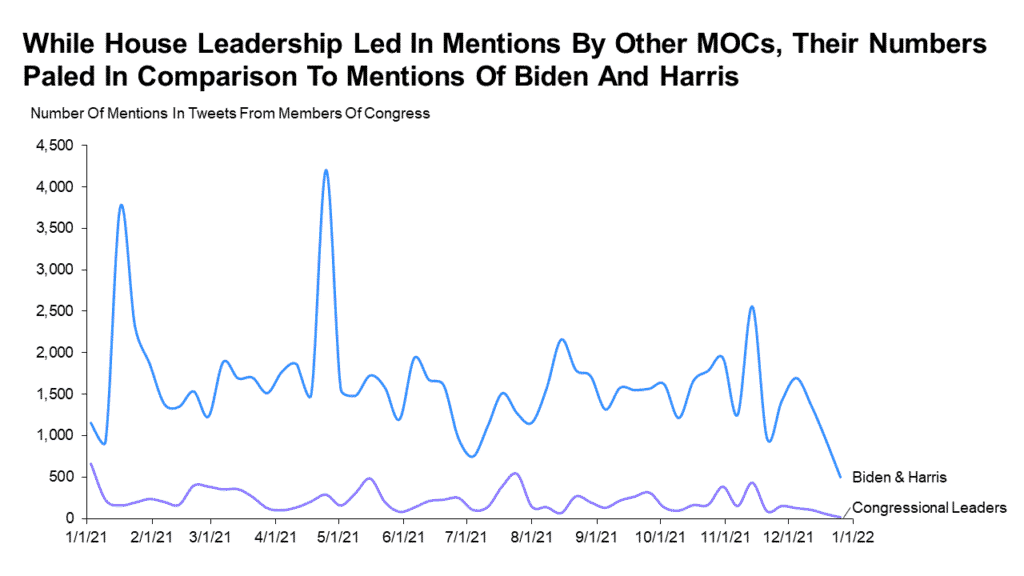 Meanwhile, Senator John Cornyn (R-Texas) was crowned 2021's most prolific tweeter in Congress. His account sent out a total of 6,507 tweets, over 1,000 more than any other member's account. However, Sen. Cornyn's tweet volume has steadily declined, dropping 44% from Q1 to Q4. Q4 was the only quarter in which Cornyn was not the top tweeter: that spot went to Rep. Pramila Jayapal (D-Wash.).
Tennessee Republican Senators Marsha Blackburn and Bill Hagerty join Sen. Cornyn as the only senators on the full-year leaderboard, which is largely composed of Democratic House members.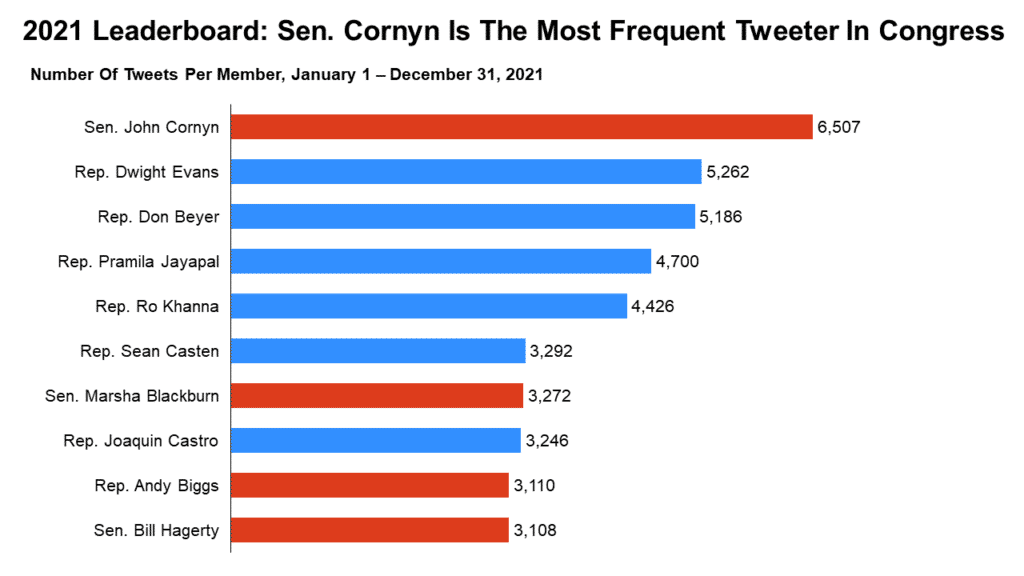 Methodology
HPS conducted text analysis on all tweets and retweets from handles included in C-SPAN's "members of Congress" Twitter list that were posted between January 1, 2021, and December 31, 2021. In total, we searched for more than 150 keywords in each of the 549,687 tweets (including retweets) to determine which topics were discussed in each. In this analysis, independent Senators Bernie Sanders (I-Vt.) and Angus King (I-Maine), who caucus with the Democratic Party, were treated as Democrats.
To provide context for our full-year analysis, HPS obtained Google Trends data on select relevant topics featured in Axios' 2021 news cycles analysis. The 0 to 100 weekly Google Trends index measures a topic's proportion to all search topics in the U.S.
COVID cases data used are from the Centers for Disease Control and Prevention's COVID Data Tracker; they were normalized to the same 0 to 100 scale as the Google Trends data.