HPS Insights
Capitol Chatter: A First Quarter Analysis Of Congressional Tweets
April 12, 2021
7 min read
These days, it's hard to keep up with everything happening on the Hill. In fact, if you were to read every tweet members and committees of Congress published since the beginning of the year, it would take you more than 20 days to read the 157,757 tweets.
Since you probably don't have that kind of spare time, HPS is helping out with the launch of Capitol Chatter: A Quarterly Analysis Of Congressional Tweets. This new product is designed to help Hill watchers better understand the topics members of Congress are talking about directly to their followers and constituents.
Our initial analysis looked at tweets from all official House and Senate accounts between January 1, 2021, and March 31, 2021. Here is what we found: COVID-19 far surpassed other topics of discussion and Democrats tweeted and retweeted a lot more than Republicans, but Republican Senator John Cornyn was the most prolific tweeter of any member. Find out more about who is tweeting, what they are tweeting about, and how they are talking about it below.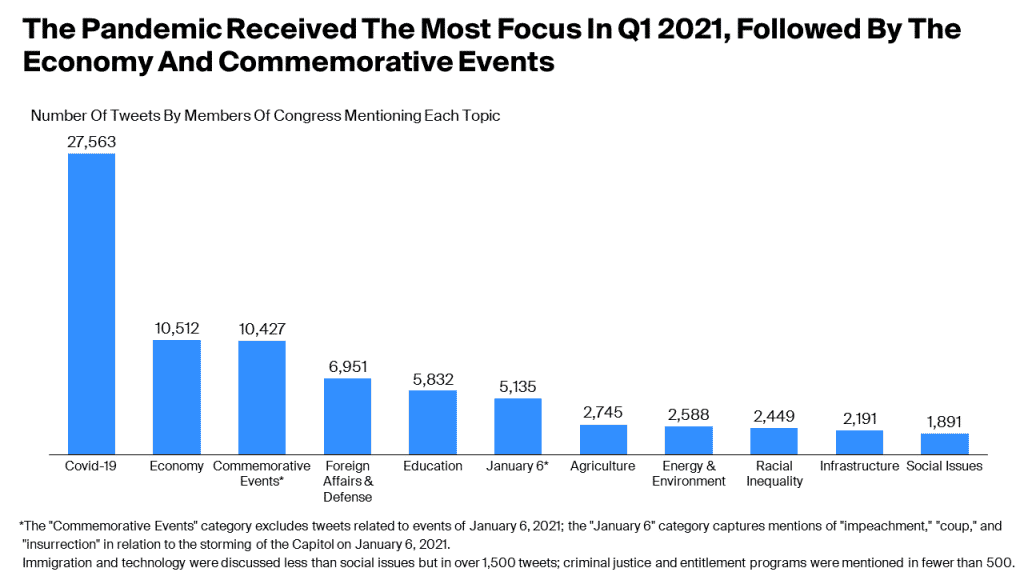 Unsurprisingly, COVID-19 was far and away the most frequently mentioned topic. The second most mentioned topic was the economy, followed by commemorative events. These tweets celebrating, honoring, or mourning commemorative events edged out the foreign affairs & defense as the third most tweeted about topic. While only some 2,000 tweets discussed infrastructure in the first quarter of 2021, we anticipate infrastructure to rise in the rankings in the coming weeks and months with the recent release of the Biden-Harris administration's American Jobs Plan.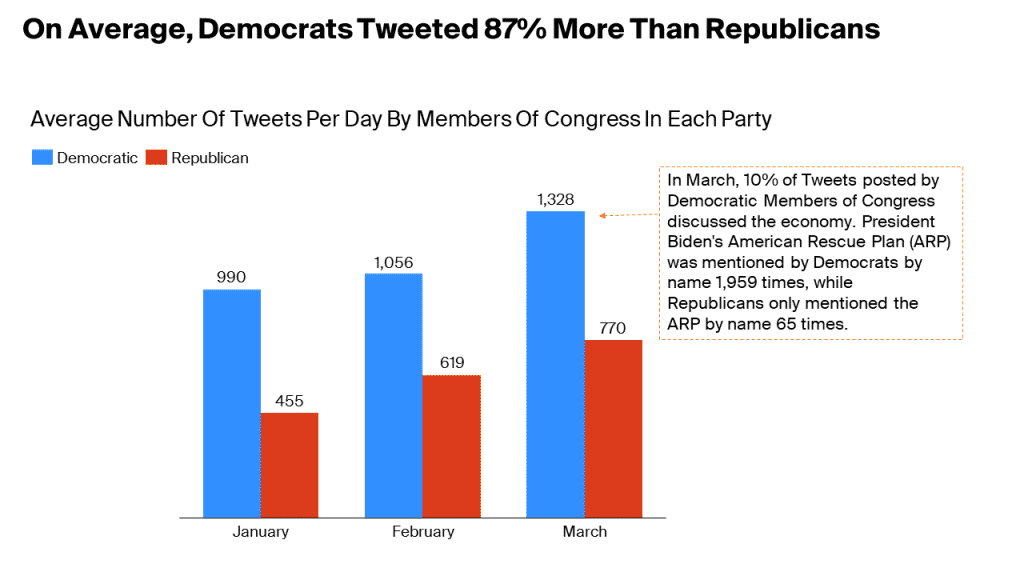 Diving into the partisan breakdown of congressional tweets, it is clear Democrats are significantly more active than their Republican colleagues. While Democrats right now only narrowly outnumber Republicans on the Hill, Democrats in Congress were responsible for nearly two-thirds of all tweets.
Democrats and Republicans also focused on different topics in their tweets. A tally of the most popular terms used shows that members of both parties were highly focused on the pandemic but diverged on mentions of other topics. Of all terms, Democrats were most likely to mention "COVID," followed by "Trump," "vaccine," "pandemic," and "honor." Their mentions of Trump were primarily in relation to the January 6th insurrection, with almost 65% of tweets from Democratic Representatives mentioning Trump coming from the month of January. Meanwhile, Republicans were most likely to mention "COVID," followed by "school," "vaccine," "tax," and "honor."
While "school" was a popular term on both sides, being mentioned nearly 3,000 times by Democrats and Republicans combined, the two parties used the word in different contexts. Nearly 30% of Republicans tweeting about schools used the word "reopen" in the same tweet, compared to 17% of Democrats who did the same. Instead, Democrats often talked about schools in tandem with the economy: 20% of them discussed economic issues in their tweets mentioning the word "school," while only 5% of Republicans did so. Twitter accounts from both parties, however, shared a common usage of the word "honor" for event-related tweets, such as congratulating Administration appointees, celebrating holidays, or thanking armed servicemen and women.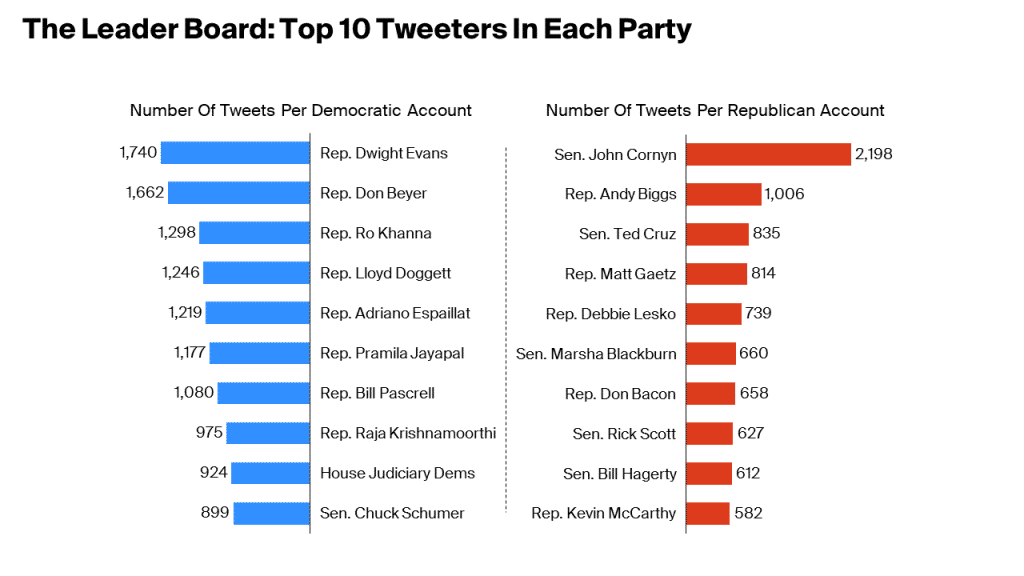 While Democrats tweeted more on average, Republican Senator John Cornyn was the most prolific tweeter of any member or committee of Congress, cranking out 2,198 tweets over three months, an average of more than 24 tweets per day. In fact, Senator Cornyn tweeted more than twice as many times as as Representative Andy Biggs, the second most frequent Republican tweeter. Half of the top 10 Republican tweeters were Senators, while only one Democratic Senator — Senate Majority Leader Chuck Schumer — made the top 10 for his side of the aisle. The most talkative Democrat on Twitter was Representative Dwight Evans with 1,740 total tweets in Q1. On the Democratic side, there were seven members that had more than 1,000 tweets, compared to the Republican side with only two members that passed this threshold. Additionally, one official Democratic committee account — House Judiciary Democrats — broke into the top 10, driven by an exceptionally high number of retweets: nearly 70% of the posts from this account were retweets.
Methodology
HPS conducted text analysis on all tweets and retweets from handles included in CSPAN's "members of Congress" Twitter list that were posted between January 1, 2021 and March 31, 2021. In total, we searched for more than 150 keywords in each of the 157,757 tweets to determine which topics were discussed in each.