HPS Insights
Capitol Chatter: 2021 Q2 Analysis Of Congressional Tweets
Welcome back to Capitol Chatter: A Quarterly Analysis Of Congressional Tweets, where we help you keep track of what Congress is tweeting.
In the second quarter, congressional Twitter accounts sent out 145,607 tweets — a slight drop from the nearly 158,000 tweets in the first quarter. COVID-19 fell from being the most tweeted-about topic as lawmakers increased focus on legislative and budget priorities, especially infrastructure. Democrats are still tweeting more than Republicans, but Sen. John Cornyn remained the most prolific tweeter of any congressional member or committee. Read on for our other findings.
In Q2, the economy overtook the pandemic as the most frequently mentioned topic. The decreased attention on COVID-19-related topics made space for other topics, including a 515% increase in tweets related to infrastructure and a noticeable bump in foreign affairs and defense-related issues. Racial inequality saw a 15% increase in mentions from Q1 to Q2, with a high volume of Tweets around the Derek Chauvin trial and the anniversary of George Floyd's murder. Democrats were three times more likely than Republicans to tweet about racial inequality.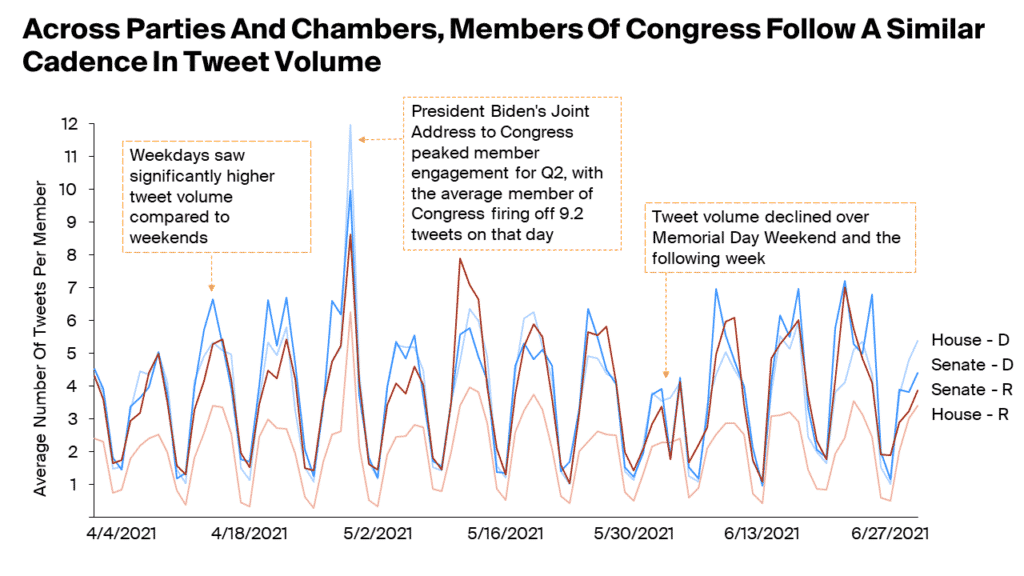 Looking at the average number of tweets per member per day, it becomes clear that despite the many differences between members of Congress, members generally follow a regular cadence on Twitter across parties and chambers. The most tweeted-about event by members of Congress was President Biden's Joint Address to Congress, with members tweeting an average of 9.2 times on that day.
Democrats' and Republicans' different focuses on Twitter are most evident in how and how much they talk about the COVID-19 pandemic. Amidst the overall decrease in congressional tweets related to the pandemic, Democrats mentioned COVID-19 2.5 times as much as their Republican counterparts. Democrats have also remained dedicated to promoting COVID-19 vaccination, mentioning vaccines nearly five times as much as their friends across the aisle. Compared to the top-five topics for Democrats in Q1, Trump, Pandemic, and Honor fell off the list.
Tax was a top priority for both parties, with tweets ranging from raising taxes on the wealthy to promotions of GOP tax reform efforts and reminders to file taxes around May's "tax day." The term "bipartisan" became the third most tweeted-about term for Republicans, with over 13% of these tweets from Republicans mentioning bipartisan also mentioning infrastructure. Other bill introductions were also frequently mentioned along with the term bipartisan. It is worth noting that Democrats actually mentioned the term "bipartisan" more than Republicans but the topic isn't in the top five for Democrats because, on average, Democrats are considerably and consistently more active on Twitter than their Republican counterparts. Compared to the top-5 topics for Republicans in Q1, School, Vaccine, and Honor fell off the list, replaced by Bipartisan, Jobs, and Health.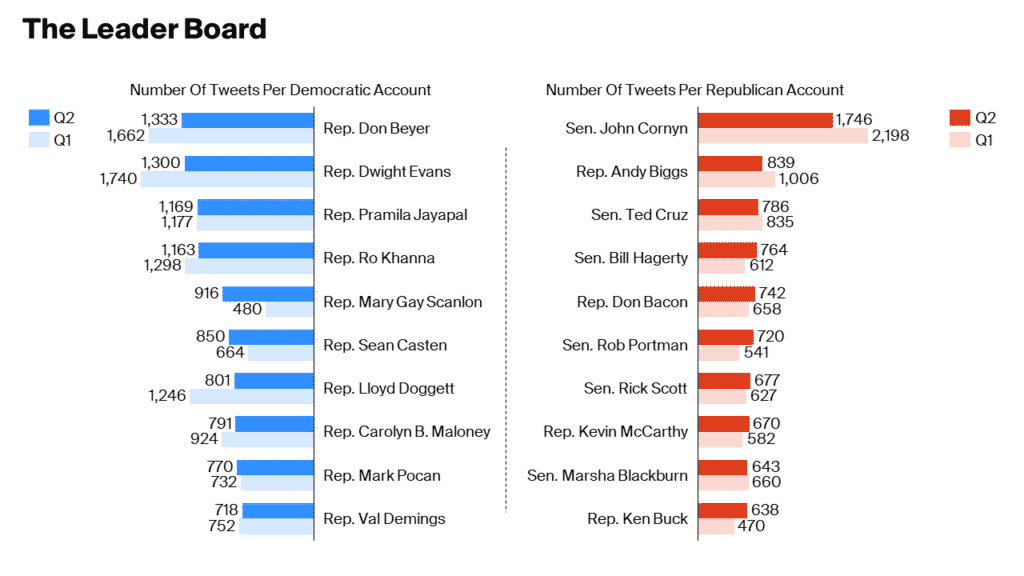 Sen. John Cornyn remained on top of the Twitter leaderboard. Interestingly, while frequent Democratic tweeters are all members of the House, Republican frequent-tweeters are a mix of both members of the House and Senate. Frequent Republican tweeters remained fairly consistent, with just Reps. Debbie Lesko and Matt Gaetz falling off the list, replaced by Sen. Rob Portman and Rep. Ken Buck. There was a bigger shakeup on the Democratic side, with four accounts (Reps. Adriano Espaillat and Raja Krishnamoorthi, the House Judiciary Democrats account, and Sen. Chuck Schumer) falling out of the leader board. They were replaced by Reps. Mary Gay Scanlon, Sean Casten, Mark Pocan, and Val Demmings.
Methodology
HPS conducted text analysis on all tweets and retweets from handles included in CSPAN's "members of Congress" Twitter list that were posted between April 1, 2021 and June 30, 2021. In total, we searched for more than 150 keywords in each of the 145,607 tweets to determine which topics were discussed in each.