HPS Analysis
Economic Sentiment Falls For Second Reading In A Row
Economic sentiment declined slightly over the past two weeks. The HPS-CivicScience Economic Sentiment Index (ESI) fell 0.1 points to 33.0, largely driven by decreases in confidence in personal finances and confidence in making a major purchase.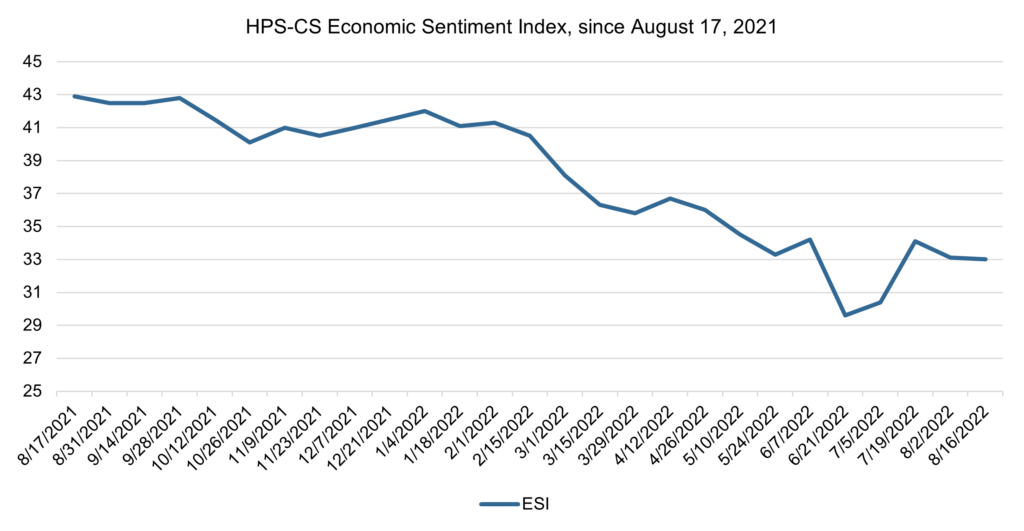 Three of ESI's five indicators decreased over the past two weeks. Confidence in making a major purchase fell the most, decreasing 1.1 points to 18.9, followed by confidence in personal finances, which fell 0.9 points to 48.6.
—Confidence in the overall U.S. economy rose 1.5 points to 34.0.
—Confidence in buying a new home rose 0.5 points to 20.6.
—Confidence in finding a new job fell 0.5 points to 43.0.
Americans have faced rampant inflation throughout 2022, and 36% of U.S. adults say they have withdrawn an average of $617 from their savings during the first six months of this year to cover living expenses. At the same time, the U.S. personal savings rate has also fallen over three percentage points to 5.1%.
Yet there are signs that inflation is beginning to cool off; the Consumer Price Index climbed 8.5% through July, considerably less than the 9.1% increase in the year through June. The slowing inflation, along with other positive economic signs, helped drive a rise in the S&P 500 for four consecutive weeks for the first time since October.
While inflation fears eased and the stock market jumped, jobless claims—often viewed as a proxy for layoffs—increased. Over the past week, jobless claims rose to a new 2022 high of 262,000. The rise may point to a cooling labor market as it comes on the heels of a Labor Department report showing that job openings fell in June to reach their lowest level in nine months.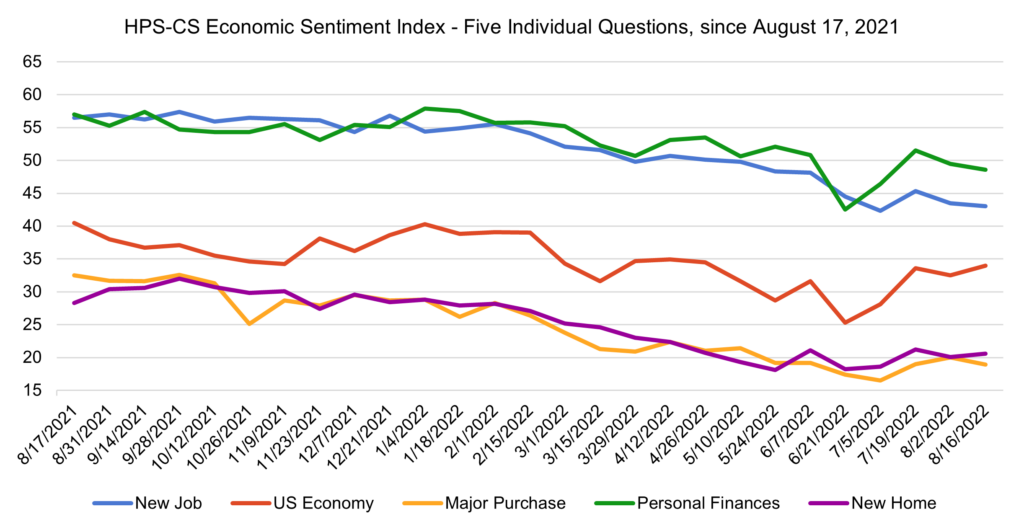 The ESI's three-day moving average began this two-week stretch at 31.6 on Wednesday, August 3. It hit a low of 30.3 on Thursday, August 4, then trended upward to a peak of 35.6 on Thursday, August 11. The three-day moving average then trended downward to 33.7 on Saturday, August 13, before increasing to close out the session at 34.2.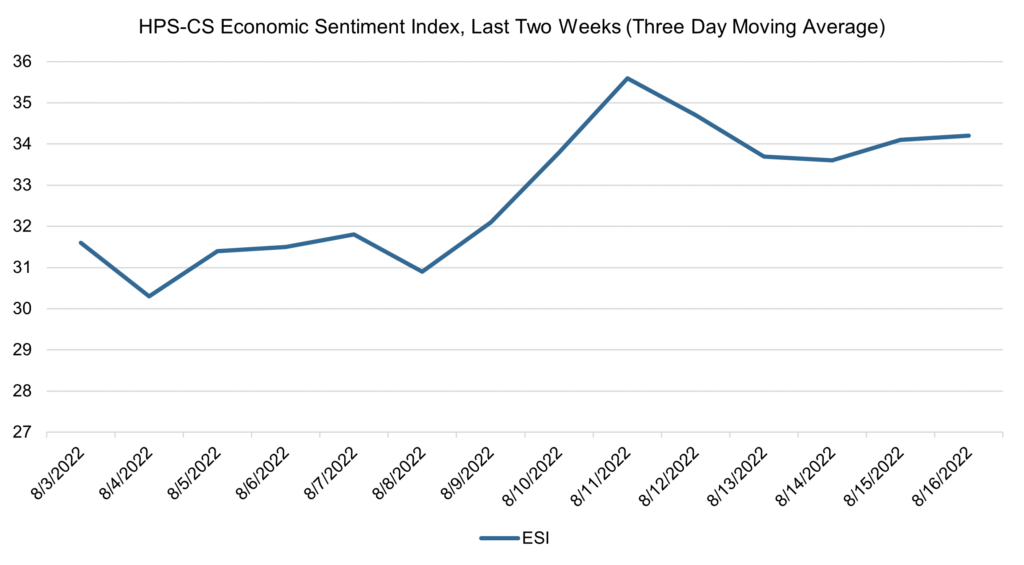 The next release of the ESI will be Wednesday, August 31st, 2022.