HPS Analysis
Economic Sentiment Falls After A Month Of Positive Growth
Economic sentiment declined slightly over the past two weeks, following four straight weeks of improvement. The HPS-CivicScience Economic Sentiment Index (ESI) fell 1.0 point to 33.1, largely driven by decreases in confidence in personal finances and in finding a new job.
All but one of ESI's five indicators decreased over the past two weeks. Confidence in personal finances fell the most, decreasing 2.0 points to 49.5, followed by confidence in finding a new job, which fell 1.8 points to 43.5.
— Confidence in the overall U.S. economy fell 1.1 points to 32.5.
— Confidence in buying a new home fell 1.1 points to 20.1.
— Confidence in making a major purchase rose 1.0 point to 20.0.
Last week's GDP report, which showed that gross domestic product fell by 0.2% in the second quarter, sparked debate over whether the U.S. economy is in or is nearing a recession.
A slowdown in economic growth was not entirely unexpected, as the White House has argued it is part of a necessary transition to sustainable growth following a year of recovery, and the Federal Reserve has continued increasing interest rates to combat inflation.
Top Federal Reserve officials have signaled that combating the continued rise in inflation remains the top priority despite the GDP report showing a second consecutive quarter of GDP contraction—a sign that interest rate hikes are unlikely to be over.
Despite rising interest rates, the S&P 500 had its best month since November 2020, having increased 12% in the last month, but investors still remain skeptical of the lasting positive growth.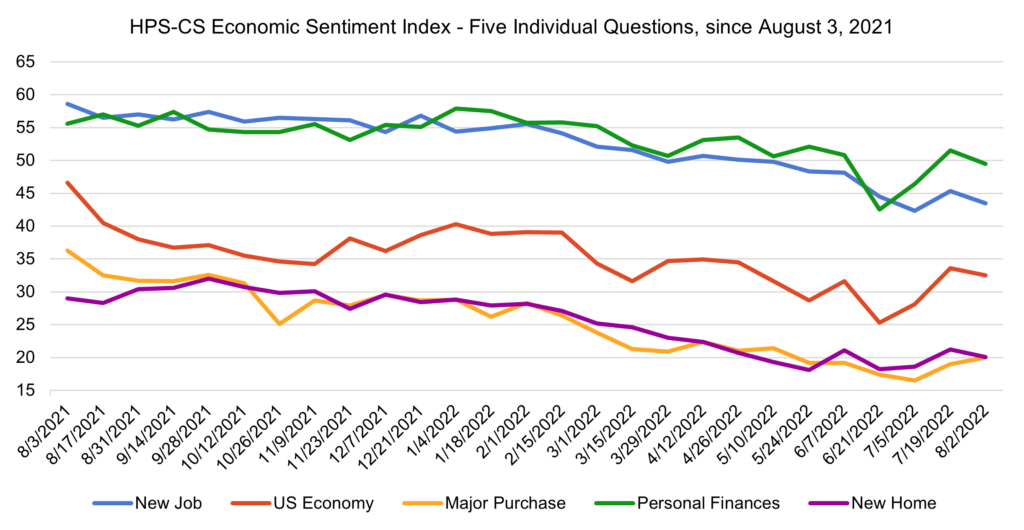 The ESI's three-day moving average began this two-week stretch at 34.4 on Wednesday, July 20. It hit a low of 31.9 on Saturday, July 23, before trending upward to a peak of 36.3 on Tuesday, July 26. Coinciding with the Federal Reserve increasing interest rates by 75 basis points on Wednesday, July 27, the moving average began trending downward to close out the session at 32.3.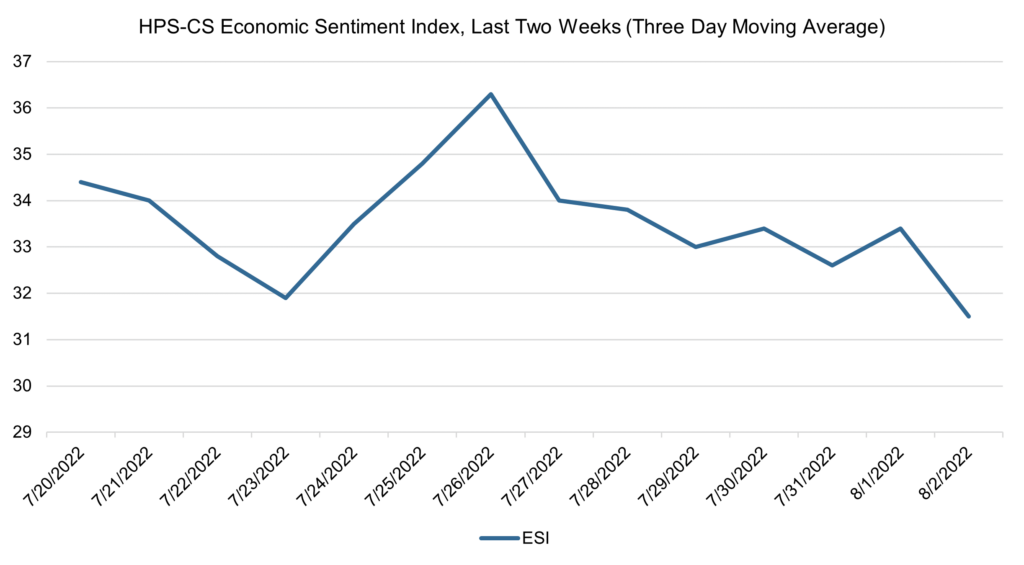 The next release of the ESI will be Wednesday, August 17, 2022.